Dental Implants
If you have a missing tooth, it can add years to your smile and knock your confidence. Dental implants are a secure and realistic way to fill any gaps in your mouth.
---
What is an Implant?
If you've lost teeth as a result of decay, disease or injury then it would be worth considering the option of dental implants.
These titanium root replacements are the ideal foundation for natural teeth or dentures. You will be pleasantly surprised by the affordability and ease of fitting dental implants. They can be used as an effective base for a single tooth or multiple teeth, depending on your needs.
How are they Fitted?
You won't feel any discomfort as the dental implant procedure is carried out under local anaesthetic, with additional sedatives if required.
The expert Serenity Dental team can often fit temporary replacement teeth immediately after the procedure. Work will begin on the development of your permanent teeth in preparation for fitting a few months later. Long-term success is excellent so long as you follow the simple advice provided by our dental experts.
How do you Look After Them?
The optimum treatment of dental implants and natural teeth is the same. You should brush regularly and attend regular appointments at the Serenity Dental clinic. Our dental team will take time to thoroughly assess and clean your teeth for the effective prevention of gum disease.
You'll have the opportunity to enjoy a significant improvement in oral confidence and long-term health, courtesy of Serenity Dental.
---
What does an Implant look like?
Dental implants themselves are made of titanium and look like a small screw. They are placed into the jawbone, where they gently fuse with the bone and act as a permanent 'root' for replacement teeth.
The top of the implant is shaped like a tooth and is covered by a dental crown, bridge or denture which is designed to match your natural teeth. We spend a lot of time talking with you to ensure your new tooth, or teeth, will look and feel natural to you.
Which Implant brand do you use?
We use different brands depending on your unique facial features. However, most of the time we use dental implants made by Straumann.
We want the best possible outcomes for you. Straumann are regarded one of the industry leaders in implant technology for reliable, successful implant treatments. Moreover, they are a global brand, meaning should you have any problems away from home, you'll like find a dentist nearby that uses matching products for you implant.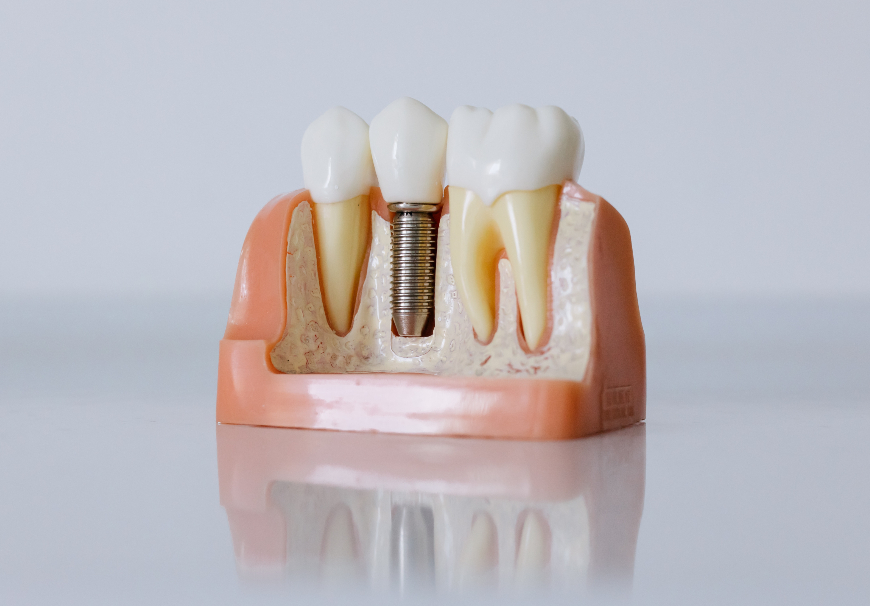 ---
How do I get an Implant?
The first step is to book a new patient examination so that we can fully discuss your needs. If you are already a patient with us here at Serenity Dental, simply call to book an appointment with Brett. Please let our professional front-of-house team know that you want to talk about having an implant and we will book plenty of time for you to ask as many question as like with no rush.