Brett Garner
BMedSci (Biomaterials) BDS (Birm.) Principal Dentist – GDC Reg: 79898
I grew up on the south coast where I attended Portsmouth Grammar School before studying at the University of Birmingham where I obtained my medical science and dentistry degrees. After graduating, I returned to Hampshire working in Havant for a year before joining this practice in 2002.
I took over as owner at Serenity from 2008. Since then I have developed an actively preventative style of dentistry, training all over the world most notably under Dr John Kois in Seattle, USA.
Outside of work, I enjoy spending time with my wife and our three children. I also enjoy looking after our chickens, reading, as well as indulging my love of technology.
Fiona Knight
BDS (Lond.) Associate Dentist GDC Reg: 64989
After five enjoyable years at The Royal London Medical College I graduated with BDS (hons) in 1989. Following a short time in Leicester I moved to Fareham in July 1991 and have worked at this practice ever since.
Over this time there have been many positive developments in dentistry which both myself and the practice have wholeheartedly embraced. Dentistry is much more prevention based for both decay & gum disease. Technology has also advanced, such as we are now able to scan and make cerec crowns on the same day.
Outside of work I have been married since 1996 and have two teenage children. I enjoy sports, especially swimming, and help with the Portsmouth swimming club where both of my children are members.
Stefan Cocan
DMD Cluj-Napoca Associate Dentist – GDC Reg: 267706
I qualified as a dentist from Romania and I have been caring for Hampshire patients since 2017.
To me, dentistry is not just drilling and filling, but the perfect blend of art and science. Although I love many aspects of dentistry, I mostly enjoy getting to know my patients. To me, the heart of patient care is taking a personalized approach because each patient is unique. Whether a patient's concern is cosmetic, restorative, or a dental emergency, my aim is to create a genuine connection with the patients and provide them with the excellent, individualized care they need.
Outside of the office, I spend most of my time with my toddler boy and my wife, with whom I share the same passion for dentistry. I also enjoy sports, skiing and playing the violin in my spare time.
Marie Hobbs
Dental Therapist / Hygienist – GDC Reg: 195592
I qualified as a dental therapist from Portsmouth University in 2010 and have worked at Serenity since January 2012. Beforehand, I worked as a dental nurse in both NHS and private practices.
I have a particular interest in preventing gum disease and helping people to keep their mouth healthy.
Outside of work I enjoy shopping, cooking and walking my border terrier puppy – May.
(Maria) Julia Casey
Dental Hygienist/Therapist – GDC Reg: 120758
I qualified as a Dental Therapist/Hygienist from Portsmouth University in 2007. I joined Serenity Dental in 2016 and thoroughly enjoy working here, alongside a fabulous dental team.
I thrive on educating patients on the importance of good oral health and believe it is essential to build a friendly rapport with our patients, in order to achieve this.
Outside of work, I enjoy spending time with my partner John and our daughter Ava, walking and retail therapy!
Kelley Clark
Dental Nurse – GDC Reg: 118363
I was educated and have lived in Gosport all of my life. I qualified as a dental nurse in 1998, and have worked at various practices locally, before joining Serenity in 2002.
In 2000, I took time out to travel and became an air stewardess for BMI British Midland. However, once I'd met my husband Paul, I returned to dental practice.
We have two beautiful children, Harrison and Clayton. We love the outdoors, including caravanning and camping. But, most of all, I love spending time with my family and friends.
Kim Lendon
Dental Nurse – GDC Reg: 278075
I qualified as a dental nurse in May 2018 and after moving to the south coast from Cheshire, joined the Serenity team in May 2019. Outside of work, I spend a lot of my time running and keeping fit but when I'm not in my gym gear, I love spending time with my friends and travelling back up North to see my family – especially my golden retriever, Oakley!
Kiera White
Dental Nurse – GDC Reg: 282631
I qualified as a Dental Nurse in May 2018 after 2 years of training at Eastleigh College. I lived on the Isle of Wight for a year before joining Serenity in August 2020. 
Outside of work I spend most of my time with my partner, Jake, and our beloved Siamese cat, Mouse! We got engaged last year and are currently planning our wedding. 
Katie Hatton
Dental Nurse – GDC Reg: 285821
I started dental nursing in 2015 and instantly knew that it was what I wanted to do and I have developed a passion for it ever since! I qualified in 2019 and have only recently joined the team at Serenity in February 2021 and I am loving every minute! Outside of work I enjoy walking our Westie called Snowy, going to the gym, shopping and socialising with friends and family.
Ffion Samuel
Trainee Dental Nurse
I am currently in training at Eastleigh college and will qualify as a dental nurse in 2022. I joined the Serenity team in July 2020.
I was born in North Wales and regularly visit South Wales to see relatives in Swansea.
Outside of work I enjoy going on walks along the beach, spending time with my family and friends. If I'm not out socialising I'll most likely be at home cuddled up with my kitten Obie. He is full of beans and always keeps me on my toes.
Evie Weir
Trainee Dental Nurse
I joined the Serenity Dental team in January 2021 and I am excited to be embarking on my dental nurse training journey. I am enjoying every aspect , especially meeting the lovely patients and working alongside a great team. 
In my spare time, I enjoy spending time with friends as well as having an interest for cars. I like to keep active by going to the gym and going for long walks, spending quality time with my family.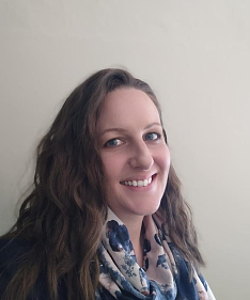 Kim Martin
Practice Manager
Kim has a long and successful career in dentistry spanning 20 years.
As a dental professional, Kim discovered her true calling to help people and embarked on a career as a dental nurse in 2003.  In 2009, she was appointed as the head dental nurse at a practice in Chichester, where she honed her skills and gained valuable experience. In 2019, she took on the role of practice manager, which sparked a passion for business and marketing. This newfound interest led her to become a certified brand strategist, allowing her to work as a brand consultant alongside her responsibilities at Serenity Dental, where she joined in November 2022.
What sets Kim apart in the industry are her unique skills and talents. With expertise as a certified brand strategist, Kim brings a comprehensive understanding of how to stay true to our purpose and patients while fostering growth for the practice in the long term. This insight enables Kim to align our brand and business strategies, ensuring Serenity Dental provides exceptional care and continues to thrive.
Kim takes great pride in not only contributing to the success of Serenity Dental. Seeing patients feel truly at home when they visit our practice fuels her passion and motivation for her work. Building strong relationships and providing the best possible care are at the core of everything she does here.
As for achieving a balance between her professional life and personal interests, Kim cherishes spending time with her two children and indulging in a passion for playing lawn bowls and singing. This year, she aspires to become a certified coach in the sport, aiming to share the joy it brings with others.
Looking ahead, Kim's aspirations lie with Serenity Dental and shaping the future of dental care within the local community in Fareham. By combining her expertise in dental nursing, business, marketing, and brand strategy, Kim is committed to enhancing patient experiences and promoting oral health in innovative and impactful ways.
Derek Scott
Treatment Care Coordinator
After growing up in the beautiful county of Ayrshire and studying in Edinburgh, I left the mother country for a career in travel. I worked in Operations for cruise lines and tour operators sending people worldwide and welcoming inbound groups to the UK.
I have lived in Italy, France, and Austria, as well as England. I now travel for pleasure – less can hopefully go wrong! My favourite places are the Austrian Alps, Venice, and the Cote d'Azur – in any order, at any time of the year.
We settled in Hampshire to raise our lovely little boy. I love spending time with him and seeing him develop. I am a keen but now occasional cyclist and I drag our son out in all weathers to build his character! I joined Serenity in March and love working with the team here.
Chris Monk
Receptionist
I have been at Serenity since 2004 and still love my role here. Outside of work I enjoy baking and riding my BMW trike when the weather permits.
Karen Samuel
Receptionist
I have worked as a dental receptionist since 2009 and been with Serenity since 2012. I have two grown up daughters – Sian and Ffion.
A fitness freak, I run most mornings before work and go to the gym regularly. I love my job at Serenity, but love holidays more!
Andrea Sillence
Receptionist
Having lived in Fareham all my life, I've walked past Serenity Dental many times. I'm delighted to now be able to say I work there. I joined the friendly & welcoming team March 2021.
Outside of work I enjoy walking, cinema, theatre, spending time with family & going out for food with my husband, any excuse not to cook!